Protect Your Hands
PIP offers the widest range of Seamless Cut-Resistant gloves and sleeves anywhere in the world. Cut-Resistant products are extensively used in industrial, construction and food processing markets. The use of Cut-Resistant gloves and sleeves has increased considerably over the years as we've led with the introductions of new yarns and grips.
LEARN MORE ABOUT HAND PROTECTION
SHOWING 1-1 OF 1 ITEMS
1 of 1
FILTERS:
CLEAR ALL

G-Tek® KEV™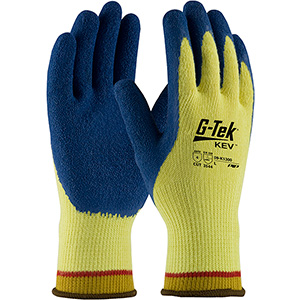 EN 388 2016 Results:
3544DX
Abrasion: 3
Cut (Coupe Test): 5
Tear: 4
Puncture: 4
Cut (TDM-100 Test): D
Impact Protection: X
EN 388 is a European Standard. Cut Level is determined by the number of cycles it takes a spinning circular blade, that is pulled across the material under a constant weight of 500 grams, to cut the fabric. As the number of cycles increase, so does the glove's ratings. Click here for more information about the EN 388 2016 standard.
ANSI Abrasion Level:
3
Test Method: ASTM D3389-10
The ANSI/ISEA 105-2016 standard outlines test methods for abrasion and is scored from 0-6. The ASTM D3389-10 test is used for coated gloves and the end point (failure) is the number of abrasion cycles it takes for the coating to wear through. The larger numbers of cycles indicates greater abrasion resistance of the product and a higher ANSI Abrasion Level.
SHOWING 1-1 OF 1 ITEMS
1 of 1